It's that time of year again—the holidays are here, and they often bring stress, stress, and more stress!
As your partner in health and nutrition, we'd like to share some easy tips to follow to create and maintain good healthy habits this holiday season. So, what is a habit? A habit is something that you fall back on that should make things easier in your life.
While we're sure you may be tested with some unhealthy habits as the holidays approach, here are a few things to keep in mind—and check out our video on this topic here.
1. Pay attention to what you're putting into your grocery cart.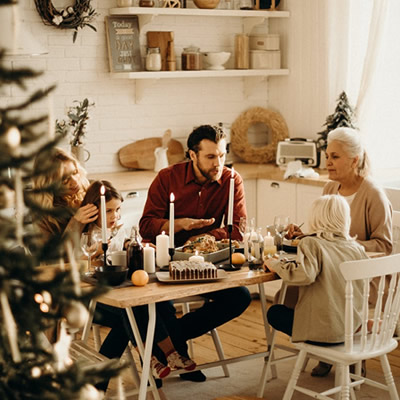 With a lot of holiday shopping coming up and meals to plan, it's easy to reach for things that just "look good." Read the labels of what you're putting in your cart and shop with intention—taking a list can be helpful. Bonus tip: Don't go grocery shopping while hungry! You'll find yourself leaving with much more than you originally planned for.
2. Learn what your body needs.
We always tell our clients, what's best for everyone isn't always best for you. Each of us have unique needs and requirements to fuel our bodies. If you're not sure what you need, nutritional testing is a great place to start. We happily offer this in the practice! Keeping a food journal is also a great way to track any symptoms that arise after eating certain foods, and can help you identify problem foods.
3. Journal about what's going on in your life—the good and the bad.
A lot of times, people journal to get their thoughts out of their brain and work through things. While that's great, always aim to end your journal sessions with something positive that happened that day, week or month.
Need some help getting your body holiday ready, or have nutritional questions we can help with? We'd love to see you in the practice soon. Contact us today to schedule your appointment. We look forward to seeing you soon!
If you have your own you'd like to share, feel free to post them in the comments below.